Supporting Clients To Achieve Their Goals
Cameron Liggett is an experienced Townsville-based Psychologist, with an individualiSed/tailored approach. He is passionate about helping people to live more fulfilling lives.
DEPRESSION
ANXIETY
STRESS MANAGEMENT
RELATIONSHIP AND COUPLES COUNSELLING
Motivation
PTSD and Trauma
Pain Management
(Adjustment to Injury)
Vocational, academic,
and sports performance
Disability/Injury
(NDIS and WorkCover)
Anger Management
Grief and Loss
Health Psychology

PROFESSIONAL, FRIENDLY SUPPORT
Cameron supports clients to realistically develop and enhance their skills, in order to better navigate life. With a professional, practical, and friendly approach, he draws upon a diverse range of evidence-based methods to equip and empower his clients to overcome their obstacles, realign themselves with their values, and achieve their goals.
GROWTH-MINDED APPROACH
Cameron has a human performance interest - challenging and assisting his clients to step outside their comfort zones, to examine their mindset and enter a space where real, sustained change can occur; where they can develop resilience and mental strength - maximising their potential.
COMMUNITY LINKS
OVER MANY YEARS CAMERON HAS ESTABLISHED CONNECTIONS WITH OTHER HEALTH PROFESSIONALS PRACTISING IN THE TOWNSVILLE COMMUNITY. THIS HAS ENABLED HIM TO OPERATE IN A COLLABORATIVE MANNER, IN THE BEST INTERESTS OF HIS CLIENTS. CAMERON IS ALSO AVAILABLE FOR TELEHEALTH AND ZOOM/SKYPE CONSULTATIONS IF PREFERRED. WORKCOVER AND NDIS.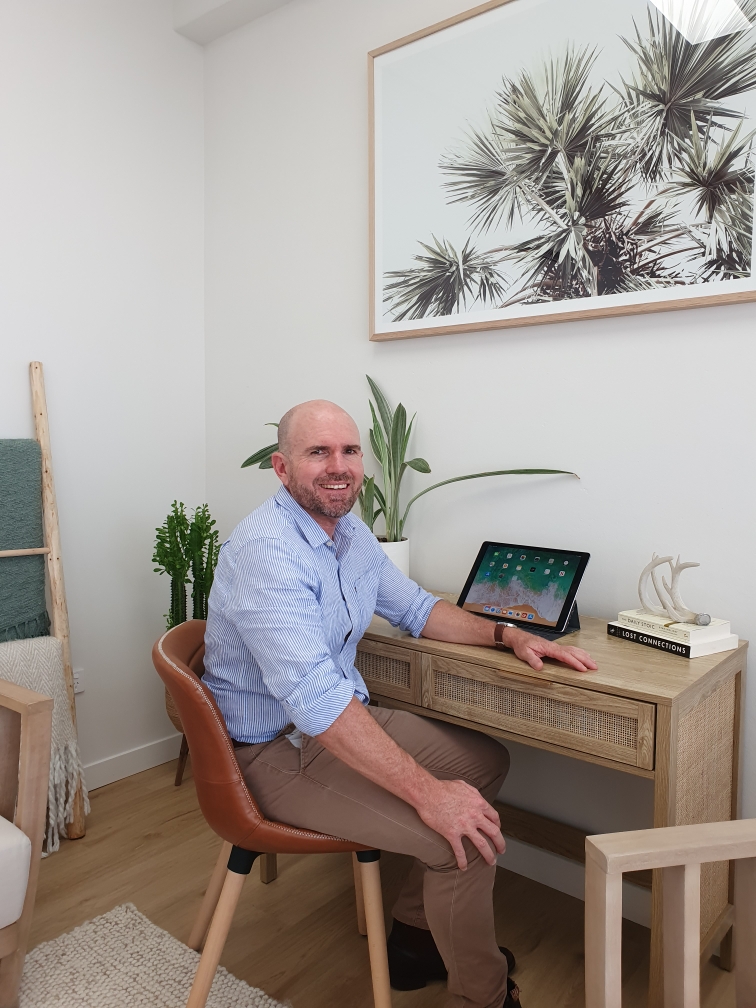 ACADEMIC QUALIFICATIONS

BA Psychology (University of Queensland) Post Grad Dip Psychology (Bond University)

PRACTICE EXPERIENCE

CAMERON HAS 15 YEARS OF PRACTICE EXPERIENCE, INCLUDING FOUR YEARS AS SENIOR PSYCHOLOGIST WITH QUEENSLAND HEALTH AND ELEVEN YEARS IN PRIVATE PRACTICE. HE HAS ALSO BEEN A CONTRACTOR WITH THE AUSTRALIAN DEFENCE FORCE FOR EIGHT YEARS. FURTHERMORE, CAMERON HAS EXPERIENCE SUPPORTING ATP TENNIS AND NRL PROFESSIONAL ATHLETES – FOCUSING ON HUMAN PERFORMANCE FACTORS AND MINDSET. HE WORKS WITH A BROAD AGE RANGE OF CLIENTS, RANGING FROM SIXTEEN YEARS TO OLD AGE.


ELITE SPORTING BACKGROUND

CAMERON IS A FORMER QUEENSLAND NO.1 OPEN MEN'S TENNIS PLAYER; NATIONAL UNIVERSITY TENNIS CHAMPION; NORTH QUEENSLAND OPEN TENNIS CHAMPION; TENNIS QUEENSLAND STATE COACH AND QUEENSLAND ACADEMY OF SPORT STATE REGIONAL TENNIS COACH; TENNIS COACH OF QUENTIN BRYCE – THE FORMER GOVERNOR GENERAL OF BOTH QUEENSLAND AND AUSTRALIA. CAMERON IS ALSO A RECIPIENT OF THE UNIVERSITY OF QUEENSLAND BLUE AWARD FOR SPORTING EXCELLENCE. FINALLY, HE ACHIEVED AN ITF JUNIOR WORLD SINGLES TENNIS RANKING OF No. 30.
Cameron has recently been appointed as an NRL External Mental Health Clinician – aligned with the North Queensland Cowboys
Monday - Friday
(08:30 AM - 05:30 PM)